Just like our school staff, our cafeteria staff goes above and beyond in delivering hot and healthy meals for our Crusaders. An incredibly caring cafeteria staff, some of whom have been a part of the Crusader family since their children attended school here, go the extra mile to make sure that lunch is an enjoyable time for all students.
The Diocese of Covington and St. Henry Catholic School are committed to providing nutritious meals in our schools. Healthy, well-nourished students learn better, are more attentive, and cause fewer discipline problems. While we realize that schools cannot be expected to shoulder the burden or reversing the trend in childhood obesity on their own, we must do our part to provide a policy and environmental changes support healthier choices for both students and staff. Schools are, after all the place where youth spend a substantial portion of their time. And, given the opportunity, school staff can model healthier lifestyle choices to the students.
As an allergy friendly school, our cafeteria is combined with strict anti-contamination practices in order to reduce the risk of exposure to food allergens.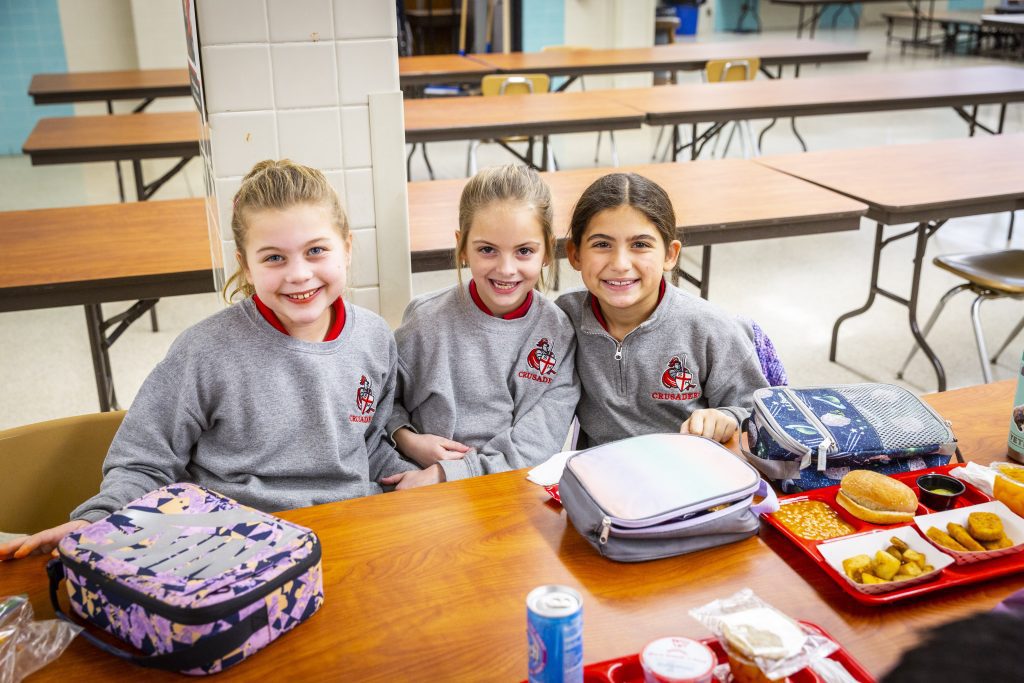 Cost for lunch for the 2022-2023 school year is $2.90 per student; $3.60 for adults. Students participating in the National School Lunch Program must take a fruit or vegetable with their lunch. Grab-n-G lunches are available as an alternative to the regular lunch item offered. Extra items must be purchased with funds from their account; extra items cannot be charged. If a student packs their lunch and would like a drink, there is a charge as well.
Free and reduced lunches are available to those families that qualify. Please be assured that information regarding free and reduced lunches is strictly confidential. Families may apply for free/reduced lunch at any time during the school year. To determine if you qualify, please complete the online application or download a paper version by going to the Diocese of Covington Food Services link. 
Cash or checks may be sent into school with your student, made payable to St. Henry Catholic School. If you have more than one child at St. Henry, please let us know how you would like the money distributed.  When sending in cash, please include the student's first and last name/s on the front of the envelope; if you send in a check, please include the student's first and last name/s on the memo line.
You can also make payments online payments through online through K12paymentcenter.com.
St. Henry Catholic School and the Diocese of Covington have a charge policy in place to insure compliance with federal reporting requirements for the Child Nutrition Program and to provide oversight and accountability for the collection of outstanding student meal balances. Students may pay for meals in advance, at the time of purchase, or make electronic payments. The charge policy is a five meal maximum, not to exceed $15. Students will be served and charged for an alternate meal when they accrue an unpaid balance in excess of the dollar limit established by the Diocese. The Cafeteria Manager shall provide written notice when their child owes money to the school for meals. This policy is the same for an adult school staff member. Additional information on the charge policy can be found HERE.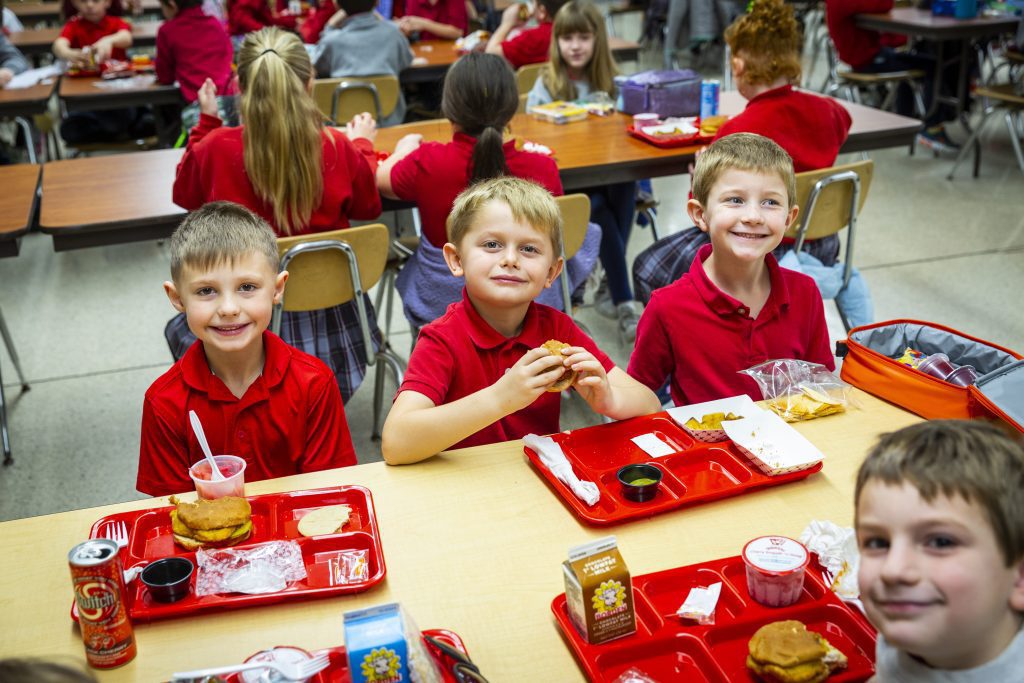 The school lunch program gladly accepts checks as payment for student meal accounts. Check payments that are returned for any reason (including, but not limited to, non-sufficient funds, stop payment requests, or a closed account) will result in:
A $25.00 returned check fee.
You will receive a certified letter and email regarding your check payment with instruction for repayment.
May result in the referral of debt to the Kenton County Attorney's office for collection.
May result in the suspension of the payer's ability to submit future payments by personal check.
For questions regarding this procedure or to make an arrangement to resolve a returned payment, please contact Jackie Kaiser at 859-392-1500 or jkaiser@covdio.org
We welcome moms, dads, and grandparents to come in and help serve lunches. The students enjoy seeing you during lunch time! Volunteer time is from 10 am until 12:30 pm.  All volunteers must be VIRTUS® compliant in order to volunteer. To sign up, please contact our Cafeteria Manager, Jessica Andrews, jandrews@sthenrynky.com or call 859-342-2551.
Click image for downloadable PDF.