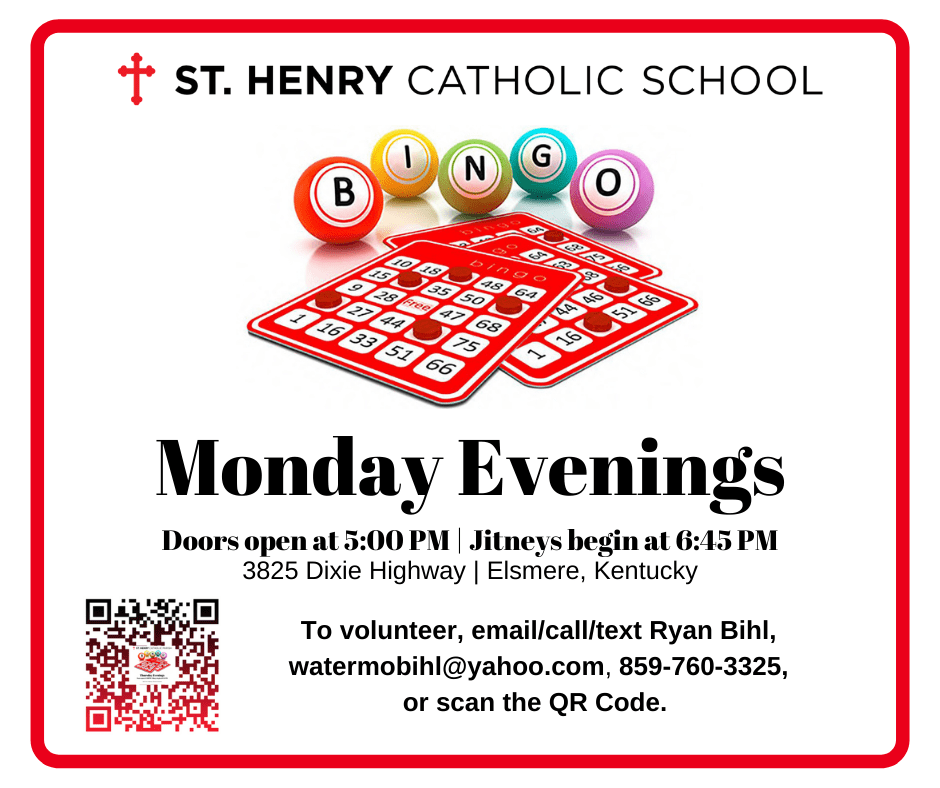 General Bingo Information
COVID19 restrictions have been lifted!
Non-Smoking
Handicap Accessible
Doors open at 5:00 PM
Jitneys begin at 6:45 PM
Regular games begin at 7:30 PM
New for 2021:  Quickie/Coverall games now pay out $150 per game.
Concessions available!
The St. Henry Bingo, is held on MONDAY! nights in the school cafeteria and is non-smoking. Dinner and drinks are provided to volunteers. Doors open at 5:00 PM and bingo is generally over before 10:00 PM. Pre-COVID, bingo brought in over $120,000 per year which is added into the school's operating budget. Our bingo is run solely by volunteers; regular weekly positions are available. 

School parent volunteers are also asked to sell pull-tabs on a specific week throughout the year. By selling pull-tabs, parents are able to earn extra money for the teachers to use in the classroom. Six pull-tab volunteers are needed weekly: for each volunteer up to four, the teacher/s will receive $30/volunteer; the fifth volunteer earns $50, with the sixth volunteer earning $80!

We ask that every family work 2-3 bingos throughout the school year for each child attending St. Henry and 1-2 throughout the summer. Thank you in advance for supporting our school's bingo, we wouldn't be able to keep up this great fundraiser without our parents and teachers!
Questions? Contact Jamie Powers at 859-814-9998 or jamielpowers00@gmail.com. 

2021-2022 Parent Volunteer Schedule

January 3: 1st Grade
January 10: Kindergarten
January 17: Preschool
January 24:  8th grade
January 31: 7th grade
February 7: 6th grade
February 14: 5th grade
February 21:  4th grade
February 28: 3rd grade
March 7: 2nd grade
March 14: 1st grade
March 21: Kindergarten
March 28: Preschool
April 4: 8th grade
April 11: 7th grade
April 18: 6th grade
April 25: 5th grade
May 2:  4th grade
May 9: 3rd grade
May 16: 2nd grade
May 23: 1st grade
May 30: kindergarten
June 6: Preschool

Sign up to volunteer! Parents can sign up for their specific class week; parishioners and friends can sign up for weekly shifts as well. 

If you have questions regarding bingo, please contact: 

Ryan Bihl
859.760.3325
Email Ryan Bihl