Saturday, March 5, 2022 At Receptions, Erlanger, KY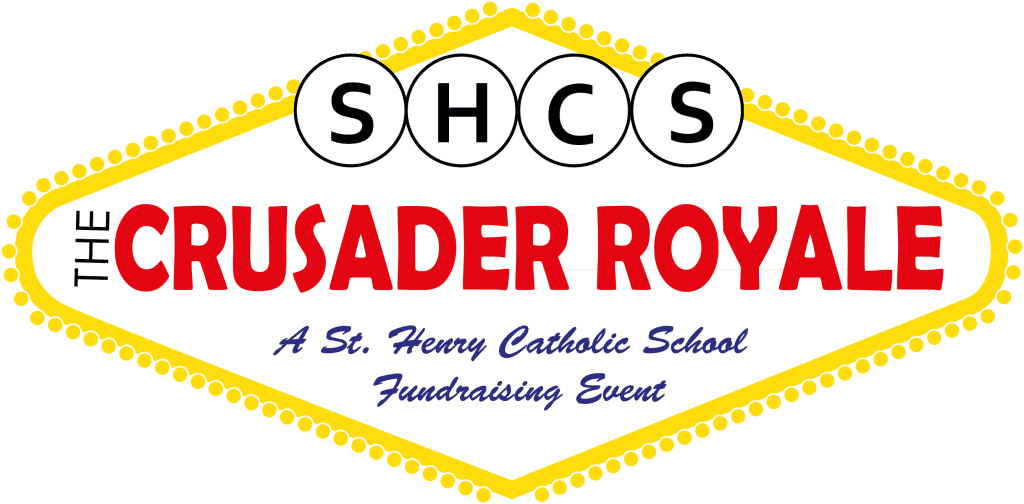 What is the Crusader Royale?
The Crusader Royale is one of the biggest fundraisers at SHCS, with profits of over $60,000 made last year and lifetime profits of over $400,000. Wow!
The event is an adult casino-themed social that includes:
Heavy Appetizers  |  Beer & Wine  |  Silent Auction  |  Raffles  |  Wine Grab  |  Traditional Casino Games played with "Cru Cash"  |  Big Wheel Game played with real cash | Giveaways  |  Late Night favorites like Skyline and pizza*  | Cash bar for additional beverages | Community Fun
New this year:  One-hour pop up Bourbon Bar!

*Local favorites and new games listed are subject to change
Who is invited to the Crusader Royale?
All Parents  |  Family and friends of St. Henry Catholic School students
Parishioners of St. Henry, St. Barbara, Cristo Rey
SHCS Alumni
Local community members and CRU supporters
How do the profits made from the Royale get used?
The Crusader Royale commits to giving the majority of profits back to the school's Education and Operating Budget each year.  Examples of how these funds have been used in the past include:

Supporting and growing our technology program for students, staff, and administrators
Helping provide classroom subscriptions, textbooks, musical instruments, and science lab materials
Helping to purchase Chromebooks, Chromebook carts, and computer software
Supporting teacher training to keep our staff and administration up on the latest technologies, programs, and educational opportunities

The remainder of the profits are then kept in the Crusader Royale account for the following year's startup costs and to support additional school endeavors, needs, and requests from school administration. 

What is Classroom Giving?
Classroom Giving are grade level donation requests from the Silent Auction Committee to gather needed items for baskets, packages and raffles to ensure maximum profits and overall success. If everyone gives a little, the school gains a lot!
Classroom Giving will kick-off on February 7 and all donations can be sent to the office
Typically, the breakdown for Grade Level requests are as follows*

Preschool | Restaurant gift cards
Kindergarten | Retail gift cards
Grades 1-2  | Specific gift basket themed items like a Lottery Basket, Lego Basket, etc. to be determined by the Silent Auction Committee
Grades 3-5  | Monetary donations to help purchase one of the big raffle items/packages for the Royale (last year we offered a Biltmore Weekend Getaway package)
Grades 6-8  |  Monetary donations to help purchase one of the big raffle items/packages for the Royale (last year we offered a Hamilton/Chicago weekend package)

*Grade level requests are subject to change
How can my family or business sponsor the Crusader Royale on a larger level?
All school sponsorships have been consolidated into our new collective giving program, the CRU CLUB. This is a wonderful new way to sponsor our school as a whole while still receiving benefits at the Crusader Classic, Lady Crusader Invitational, Crusader Royale, Boosters Golf Outing, school banners, and community communications. Please contact Ryann Scott at Cruclub@sthenrynky.com.
Questions? The Crusader Royale is always looking for new volunteers and fresh ideas. Please contact Elaine Stich at etuschong@yahoo.com with any questions or for more information on how to get plugged in.